A Funded Clinical Trial to Evaluate an Autologous Vaccine Plus Adoptive T-Cell Transfer in the Treatment of Dogs with and Hemangiosarcoma
Trial Specifics:
Animal Clinical Investigations is conducting a clinical trial in dogs with hemangiosarcoma, sponsored by Elias Animal Health, LLC.  ELIAS Cancer Immunotherapy (ECI™) is a personalized T cell-based treatment that triggers the patient's immune system to eliminate cancer.
This trial is designed to evaluate the safety and efficacy of surgery combined with ECI-VAR-04 as a treatment for newly-diagnosed splenic hemangiosarcoma.  Following surgery, enrolled dogs will receive a series of vaccinations that are customized from the cancer tissue.  Up to 5 customized vaccines will be given over the course of the study.  After the vaccinations, the personalized T cells are collected through apheresis and then activated before being reinfused into the patient. Patients will receive oral chemotherapy prior to T-cell infusions. Following intravenous infusion of activated T cells and additional vaccination visits, enrolled dogs will be followed for up to 11 months.  The follow-up visits will include bloodwork, ultrasound examinations, and thoracic radiographs every 3 months.
Trial Funding:
The owner is responsible for the initial surgery, and the remainder of the trial is fully funded for the full trial duration (11 months), including all visit procedures and treatments.
Trial Eligibility:
Dogs with hemangiosarcoma may be enrolled if they meet the specific criteria:
Biopsy confirmation of splenic hemangiosarcoma
Splenectomy must be performed at a designated study site for appropriate tissue processing
No prior or current anti-cancer treatment other than surgery for hemangiosarcoma
No concurrent glucocorticoids or other immunosuppressive chemical agents
No second malignancy or other uncontrolled medical condition that may be disruptive to the objectives of the study
Please contact Friendship Oncology Specialists to discuss enrolling your patient in this study.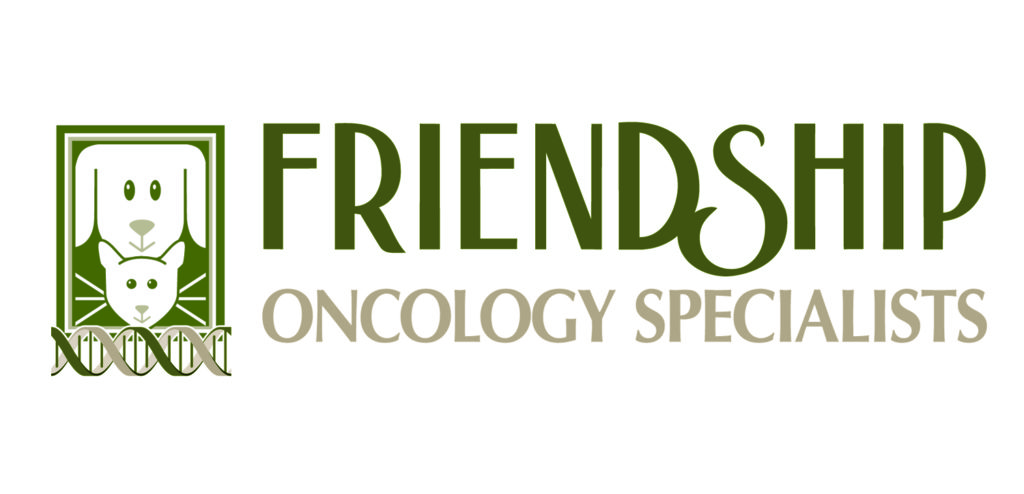 Friendship Oncology Specialists, led by oncologists Dr. Courtney Mallett and Dr. Amanda Foskett, offer a wide variety of treatment options for pets with cancer. Our goal is to preserve, lengthen, and improve quality of life for dogs and cats that are afflicted with cancer. 
*Featured image courtesy of Blue Pearl Vet.