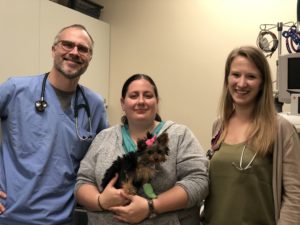 Friendship Nephrology & Urology Services offers the most extensive and cutting edge diagnostics along with new, minimally invasive and endourologic treatments. As an adjunct to our Internal Medicine, Critical Care, and Specialty Surgery services, the Nephrology & Urology Services team can collaborate to provide the highest level of care for your patient. Most diagnostics can be performed the same day as the appointment. Interventional endourologic procedures can be performed within 2-3 days.
Conditions to be evaluated and managed:
Kidney Diseases
Acute kidney injury
Chronic kidney disease
Glomerular disease and protein losing nephropathy
Nephroureterolithiasis (kidney stones) and nephroureteral obstruction
Pyelonephritis
Urinary Diseases
Urinary tract infection
Urinary incontinence
Hematuria
Cystolithiasis (bladder stones)
Bladder polyps, masses
Dysuria
Feline lower urinary tract disease (FLUTD)
Prostatitis
Systemic Diseases
Hypertension
Electrolyte abnormalities

Hypercalcemia
Potassium disorders
Sodium disorders
---
Available Diagnostics:
Ultrasound
Percutaneous renal biopsy
Cystoscopy (both males and females)
CT scan
Glomerular filtration rate (GFR) testing
Fluoroscopy
Prostatic lavage
SUB management including flushing and troubleshooting
Advanced Therapeutics:
Hemodialysis
Apheresis and therapeutic plasma exchange (TPE)
Ureteral stent placement
Renal sclerotherapy
Cystoscopic biopsies
Laser debulking of bladder or urethral masses
Urethral stent placement
Ectopic ureter laser ablation
Urethral submucosal collagen bulking
Percutaneous cytolithotomy (PCCL)
Voiding urohydropropulsion (VUH)
Percutaneous cystostomy tube placement
How to refer:
Please inquire to learn more about the Nephrology & Urology Services currently being offered at Friendship Hospital for Animals. We will gladly consult on any cases that you feel will potentially benefit from extracorporeal or minimally invasive therapies. To contact the Nephrology & Urology Services team, please call 202.567.2083 or email our department directly at nephrology@friendshiphospital.com.