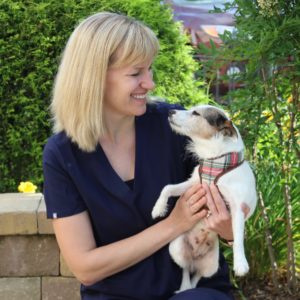 Armour Veterinary Ophthalmology
Armour Veterinary Ophthalmology provides advanced medical and surgical care for patients with ophthalmic diseases. Working with your primary veterinarian, Dr. Micki Armour is an expert in the diagnosis, as well as surgical and medical management of ophthalmic diseases in our veterinary patients. Our goal is to provide excellent patient care and customer service for your family member.
Advanced diagnostics and therapeutics:
Schirmer tear test, rebound tonometry, tear film assessment, fluorescein stain
Gonioscopy
Ocular ultrasonography
Electroretinography
Endocyclophotocoagulation and goniovalve placement for glaucoma
Transscleral photocoagulation
Cryotherapy
Retinopexy
Corneal transplant
Commonly treated conditions:
Indolent ulceration
Deep stromal ulcerations and corneal rupture
Cataracts and cataract surgery
Glaucoma – primary and secondary
Endothelial decompensation
Corneal dystrophy and degeneration
Uveitis
Immune mediated keratitis/Episcleritis
Keratoconjunctivitis sicca
Corneal sequestrum
Feline herpesvirus
Retinopathies – SARDS, retinal degeneration, progressive retinal atrophy
Pigmentary Uveitis of Golden Retrievers
Eyelid diseases – entropion/ectropion, ectopic cilia/distichia/trichiasis
Prolapsed third eyelid gland ("cherry eye")
Corneal transplant:
In 2017, Dr. Armour successfully completed the first ever corneal transplant for endothelial decompensation in a dog. Our goal is to be a leading center for providing vision enhancing corneal transplants for patients that would otherwise undergo painful corneal bullae formation, secondary ulceration, and often enucleation. If you would like more information regarding corneal transplantation in our canine patients, please do not hesitate to contact us.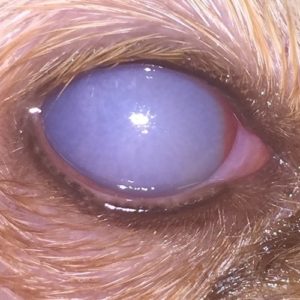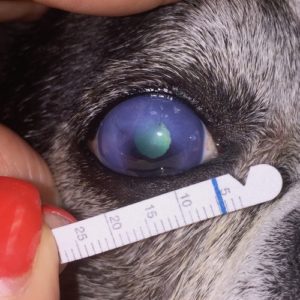 In collaboration with Qura and leaders in the field of human glaucoma, Dr. Armour has been instrumental in the development of a wireless implantable pressure sensor that can measure and monitor changes in eye pressure. The device transmits alerts in real time via text or email to physicians and other caregivers identified by the user to receive them. Memory in the device allows for data storage and is accessible for review by medical professionals on either a mobile device or computer. Dr. Armour will be publishing and presenting her data over the next 12 months.
Cataracts:
When your pet develops cataracts, it can be a devastating change in their (and your) daily life. Cataract surgery, and the restoration of sight to a pet that cannot see, is one of the greatest gifts that a veterinary ophthalmologist can provide to a pet. Watching a patient wake up after cataract surgery and see you for the first time is Dr. Armour's favorite part to her job. She uses cutting edge technology and state of the art equipment to provide your pet with the best possible outcome. If you would like to have more information regarding cataract surgery, please feel free to contact us at any time.
How to schedule:
Ophthalmology appointments are available Monday through Friday 8am-4:00pm. Please call 202.567.2089 or email AVO@friendshiphospital.com if you would like to request an appointment.
For more information, visit www.armoureyevet.com