Veterinary Internship at Friendship Hospital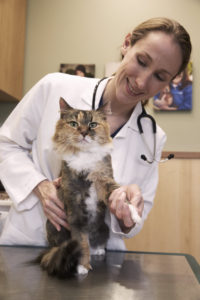 For over 30 years, Friendship Hospital for Animals has provided veterinary graduates with an outstanding opportunity to develop their clinical skills in a high quality practice environment. Friendship has the resources, experience, and knowledge to provide interns with a solid foundation in both specialty medicine and progressive general veterinary practice. The internship is set up to support both interns who would like to continue their education through to a residency and those who would like to solidify their education to be an innovative, well-rounded general practitioner or emergency clinician. Graduates of our internship program have advanced into many different areas of veterinary medicine, including residency programs, practice ownership and regulatory medicine/public practice. 
Friendship's professional support includes a staff of over 45 veterinarians, including full time boarded and board eligible members of the ACVS, ACVECC, ACVIM (Cardiology, Neurology, Small Animal Internal Medicine and Oncology), ACVR, ACVAA, ACVP, ACVD, ACVO, ABVP, and consultants in Zoo Medicine (ACZM, ABVP). The majority of our specialists have finished their academic residency and joined our practice within the past five to ten years and maintain healthy relationships with their peers in academia. The support staff at Friendship includes a well-trained team of 165 full time personnel. 
Friendship, newly renovated, resides in a state-of-the-art facility located in affluent Northwest Washington, and is the only 24 hour care facility within the District of Columbia. We have a full-service in-house laboratory as well as daily courier pickups for a large reference laboratory. The Diagnostic Imaging Service is equipped with digital radiography, ultrasound, CT and MRI. Our high-tech dentistry suite was recently renovated and includes digital dental radiography. We have the only hemodialysis and extracorporeal therapies service in the region. Our state-of-the-art surgery suites provide fluoroscopy, arthroscopy and laparoscopy capability. In addition to its cutting edge facilities, Friendship is a leader in veterinary information technology and progressive veterinary business management techniques. All records are maintained electronically using an easily-mastered electronic medical record program. 
The internship begins with a two week orientation period that provides significant overlap with the outgoing class. Interns then rotate through hospitalized case management, emergency and specialty services. Additionally, FHA maintains relationships with the Humane Rescue Alliance (formerly Washington Humane Society/Washington Animal Rescue League), the Smithsonian National Zoo and the National Aquarium. Interested interns may be able to spend elective time with HRA and limited opportunities may exist for interested interns with the Smithsonian National Zoo and/or the National Aquarium. 
The internship is distinguished by the relative autonomy and concurrent level of responsibility afforded interns. This autonomy is balanced by continual guidance and support from our large network of specialists, emergency veterinarians and primary care veterinarians, all of whom are enthusiastic about and experienced in the process of intern education. Each intern is assigned a staff doctor or specialist as a mentor, depending on the intern's interests. Interns have access to a large online library as well as many textbooks and journals. 
In addition to twice-daily cage-side rounds, educational opportunities include teaching rounds (average eight sessions per month, format may include formal lectures, radiology reading, journal club, etc.), wet labs and monthly hospital-wide morbidity and mortality rounds. There are also opportunities to remotely participate in didactic rounds through the Smithsonian National Zoo. All interns are required to present one lecture during their time at FHA. We also encourage interns to attend local CE seminars when possible. Friendship recognizes that supporting our interns through didactic teaching, cage-side rounds, and primary case responsibility is paramount in providing new veterinarians with the best foundation possible to support their future endeavors. 
Friendship recognizes the important role that pets play within the family and the stress that a sick pet can cause family members. In addition to self-motivated and professionally well-prepared candidates, Friendship seeks interns who understand the importance of the human-animal bond and the critical role that the veterinarian plays in its support. Friendship is dedicated to client service and nurturing client communication – skills that are vital for a successful veterinarian to master. Successful candidates will also be mature, articulate, and capable of conveying how much they care to pet owners. The Friendship vision revolves around respect for animals, owners, and fellow team members. The successful candidate will share this philosophy and commit to the Friendship vision. 
Benefits include health and liability insurance, DC Veterinary License and DEA fees, AVMA dues, VIN membership, ten days of paid time off (personal/vacation/sick days), employee pet health care discount, and discounted gym membership.
For more information, please email internship@friendshiphospital.com. Please indicate in the subject line that you are contacting us about the rotating internship in emergency, medicine and surgery. Please visit www.friendshiphospital.com and our Facebook page for more information about the hospital! 
To read more about our internship, please review our Internship FAQs.
Internship Information Request
---
Veterinary Externship at Friendship Hospital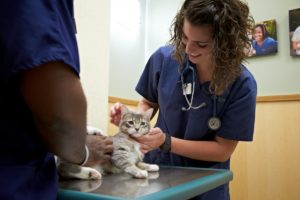 Friendship Hospital for Animals is the most trusted animal health care facility in Washington D.C. We provide high-quality primary, emergency and specialty care to more than 70,000 dogs and cats each year. We also have a strong commitment to training the next generation of veterinarians. We see this as an investment in the future of our field and, to that end, we welcome veterinary students to come to the hospital for externships and to consider applying for our internship through the Veterinary Internship and Residency Matching Program.
FHA's externship program provides veterinary students with an outstanding opportunity to observe and learn in a high quality practice with a large and diverse case load. Extern students may shadow in our primary care, emergency or specialty care services.
Our progressive Primary Care department provides comprehensive wellness care, including pediatric and geriatric care, general surgery, and dentistry.
Our busy Urgent Care Service is the only 24/7 emergency provider within the capital beltway. Backed up by our Critical Care Service, we provide high quality intensive care and collaborate with other departments within to hospital to provide optimal care for hospitalized inpatients. We accept emergency referrals from and work closely with a large network of local primary care providers.
We have a wide range of specialty departments that are all staffed by highly trained specialists, including Neurology, Specialty Surgery, Internal Medicine, Diagnostic Imaging, Anesthesia (including Rehabilitation and Pain Management Services), Clinical Pathology, Oncology, Dermatology, and Cardiology.
Our state-of-the-art diagnostic capabilities include advanced imaging (US, CT, MRI) and a full in-house laboratory.
We invite interested students to visit our Externship Request Page.
To learn more about our program, please access our Externship FAQs.
Externs are accepted January through May and July through December. No direct patient care is involved.