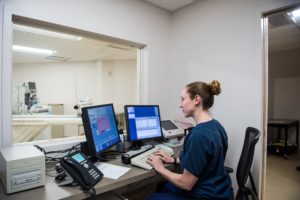 The Friendship Diagnostic Imaging service provides high quality diagnostic imaging to assist with the state of the art care and treatment offered at Friendship Hospital for Animals. Friendship is proud to have two board-certified radiologists on staff who interpret all in-house diagnostics including radiograph, ultrasound, CT, and MRI studies, as well as, working very closely with the doctors who order these imaging studies. It is part of the Friendship difference and part of our commitment to your patient's health.
Friendship Diagnostic Imaging has recently expanded its services to include Outpatient Ultrasound and Teleradiology for referring veterinarians. The outpatient and teleradiology services allow referring veterinarians to consult and receive imaging interpretation directly from our board-certified Radiologists. As an additional benefit, if you choose to refer a case to Friendship, our specialists will be able to easily access your patient's images and official imaging report.
Outpatient Ultrasound
As a service to our referring veterinarians Friendship Hospital for Animals offers outpatient ultrasound exams via direct appointment with the Diagnostic Imaging Department.
Please send non-critical patients only. Critical patients that need urgent medical, surgical, or emergency care should be referred to one of those services directly. If a critical or unstable patient is referred for an outpatient ultrasound, it will be seen by the appropriate service prior to the ultrasound.
Please fill out the online referral form.
Once you have submitted the form, we will contact the client to schedule an appointment. The client is also welcome to contact us to schedule an appointment.
Friendship Teleradiology Service
Click Here for the Teleradiology Login
Together with Timeless we will guide you through the installation of the necessary software on your practice computer and assist you with procedures for transmission of images.
FHA will bill your practice monthly.
Monday–Friday service with 4–6 hour turn-around time for cases submitted between 8am and 5pm. Radiographs will often be read sooner than this turnaround time.
STAT reads are available Monday–Friday by submitting study as a STAT online.
Phone follow-up discussion is readily available for cases read by on-sight radiologist only. Referring veterinarians are always welcome to call the Diagnostic Imaging Department
For any questions regarding diagnostic imaging, including outpatient ultrasound or our teleradiology service, please contact the Friendship Diagnostic Imaging service at 202.567.2085 or via fdi@friendshiphospital.com.