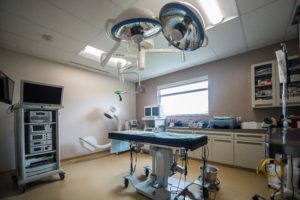 The General Surgery service at Friendship performs elective procedures such as spays and neuters, and many urgent surgical procedures, such as urinary obstruction surgeries, abdominal biopsies, wound care/closure, and feeding tube placements.
Friendship General Surgery also performs many preventive surgical procedures in young animals, such as prophylactic gastropexy, bulldog airway surgery, and other procedures to maintain your pet's health and prevent the occurrence of common life-threatening or emergent problems in the future.
Emergency Surgery
Friendship's emergency surgery service provides surgical expertise for all your pet's emergent needs outside of normal hospital hours. Veterinarians and surgical support staff are on call 24 hours a day—weekdays, weekends, and holidays—to be there when you need us the most. Emergency surgery services provided by Friendship Hospital include:
Gastric and intestinal foreign body removal
Intestinal tumor removal
Bleeding abdominal mass removal
Traumatic emergency surgery, penetrating wounds
Urinary obstruction surgery
Gastric dilatation and volvulus (Bloat or GDV)
Post-operative care is also supported by full-time, board-certified emergency and critical care specialists who consult with doctors on the most critical cases. Friendship is the only hospital in Washington DC with this level of expertise. Criticalists develop, modify and oversee protocols and systems to ensure your pet receives the best quality of care. Friendship's in-house laboratory and blood bank provide much needed support to many critical animals.
Precautions and Monitoring Ensure Pet Safety
Friendship's team-oriented approach to surgical procedures ensures that your pet will receive the highest quality of care possible. This is maintained through communication, continuing education and training, the latest surgical tools available, and dedication to owners and animals alike.
We offer the most advanced surgical techniques and technology. All patients are carefully screened for safety and anesthetics are specifically tailored to your pet. At Friendship Hospital for Animals, pain management is an important part of every surgical intervention.
Surgical services and facilities include fully trained veterinary and technical staff, to ensure the safest, most efficient, state-of-the-art procedures for your pet; heated surgery tables for greater comfort; advanced sterilization techniques; continuous ECG, direct blood pressure monitoring, and oxygen saturation monitors; 24-hour intensive care after surgery and full blood testing (performed by our state of the art in-house laboratory). A dedicated and fully trained surgical technician continuously monitors patients during anesthesia until the patient is awake.
Recovery Care
Surgical patients recover in Washington, DC's only 24-hour, fully staffed emergency hospital. Senior surgical staff are either at the hospital or on 24-hour call, should there be any questions with your pet's recovery while in the hospital.
Your Pet's Surgery: What to Expect & How to Prepare
Surgical Admissions
All surgical candidates are evaluated by a General Surgeon or FHA Primary Care doctor prior to surgical admission (pre-surgical consult)
Pre-surgical bloodwork is required for all anesthetic patients
Consent forms must be signed prior to surgery
No food after 8 p.m. the night before surgery (water is ok)
Arrive at the hospital by 8:30 a.m. the morning of surgery.
Provide us with accurate contact information for a responsible party available throughout the day
At admission, a doctor will discuss with you your pet's procedure, risks, possible complications, recovery, and answer any of your questions
If you would like to spend additional time with the surgeon, you may schedule a pre-surgical consult with the surgeon prior to the day of the procedure
During the Day
It is generally difficult to give you a specific time for your pet's surgery. Scheduled surgeries are not performed based on the order of check-in but on the procedures being performed that day.
Feel free to call during the day to check on your companion's surgical and recovery status. Your pet will be assigned a technician who can update you regularly. Your veterinarian should call you with a full status report by the end of the day.
After Surgery
Follow your discharging veterinarian's instructions
Monitor your pets incision for swelling, heat, pain, discharge, and redness
Monitor your pet's appetite
Maintain bandages and administer medications as instructed
Return for follow-up as directed
Please contact us if you would like a tour of our emergency or surgical facilities.