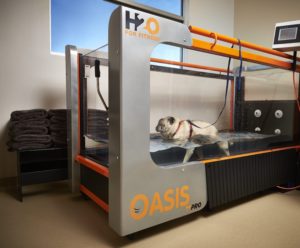 Veterinary rehabilitation aims to restore and enhance functional ability and quality of life. Our service offers non-surgical treatment options to help your patient with injuries, injury prevention and recovery, chronic arthritis, and decreased mobility. Physical rehabilitation can also be helpful following disease, surgery, and in relieving acute or chronic pain. These services are for all patients, not just athletic canines.
Friendship's Certified Canine Rehabilitation Practitioners (CCRP), Janay Austin-Carlson and Phillip Biele, will work with your client and patient to identify a plan that is best suited to your patient's specific needs. Through rehabilitation therapy, we will strive to improve or maintain patient strength, stamina, and body condition. Rehabilitation can often benefit senior pets and offset the aches and pain of aging, including arthritis or other degenerative joint conditions. It can also be beneficial to patients on a weight loss regimen.
Physical rehabilitation employs non-invasive methods to restore mobility and function to your pet's musculoskeletal system. Many rehabilitation plans are multimodal, meaning several treatment options will be utilized simultaneously.
Current rehabilitation services include:
Hydrotherapy/Underwater treadmill
Therapeutic ultrasound
LASER therapy
Transcutaneous Electrical Neuromuscular Stimulation (TENS)
Neuromuscular Electrical Stimulation (NMES)
Therapeutic exercise plans
Custom strength training and conditioning plans
Manual therapies, joint mobilization
Therapeutic stretches and massage
Custom brace and cart measurements
How to schedule:
Call 202.363.7300 to speak with our Rehabilitation team.