24/7 Advanced Care for Your Animal Companion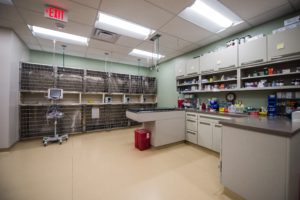 Led by the District's only board-certified Criticalists, Friendship Emergency & Critical Care service functions 24 hours a day to provide excellent emergency care, critical/intensive care and hospitalization services.  Our experienced and highly skilled team is ready to intervene as quickly as needed to assure the highest likelihood of a successful outcome for your pet.
Services offered:
24-hour walk-in emergency services
24-hour intensive nursing care
Advanced monitoring, including ECG, pulse oximetry, capnography, blood pressure (invasive and non-invasive), and blood gas monitoring capability
On-site diagnostics available 24 hours a day
24-hour access to digital radiography and focused ultrasound
Transfusion therapy
Nutritional support
Oxygen therapy
Skilled pain management
Emergencies aren't limited to business hours, and neither are we!  Our emergency and critical care service functions 24/7/365.  We are the premier 24-hour veterinary emergency room in the District of Columbia.
If you believe your animal companion is having an emergency, don't hesitate to bring him or her right in.  You can always give us a call and our experienced client care technicians may help you assess the situation if you're not sure whether you should come in.  The American Animal Hospital Association (AAHA) has some additional information about what constitutes an emergency.
Prompt emergency care can be life saving in the event of acute, severe illness or injury.  Beyond the initial emergency period, your pet may require close monitoring, supportive care and intensive in-hospital management before recovery occurs.  Friendship Hospital for Animals provides 24/7/365 emergency care and hospitalization services, including intensive care unit (ICU) care.  Our diligent team of skilled veterinary technicians, emergency doctors and specialists in emergency and critical care medicine are here whenever you need us!
If your pet needs to be hospitalized, the doctor will prepare a written estimate for the care needed for you to review. You will be asked to leave the low end of the deposit in order to begin hospitalized treatment. You will be updated regularly on the status of your invoice and likely continued care, as it can change throughout hospitalization. If needed, additional deposits will be taken throughout your pet's stay. Doctors will update you daily as well as updating your primary care veterinarian whether they are part of the Friendship team or at another clinic. Due to high caseload and high call volume, we ask that clients not call for updates on hospitalized patients. Unexpected interruptions divert attention from our patients and can cause significant delays in workflow. 
Doctors caring for hospitalized inpatients will endeavor to call with routine updates before noon and again before evening. Initial morning updates will be emailed by our department coordinators. A doctor will call to discuss specialty consults and major diagnostic results. Doctors will call outside of these times if there is a significant decline in patient status. We thank you for your patience and understanding.
For more information, visit our Emergency & Critical Care FAQs.