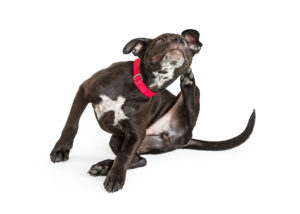 Spring is here, and nature is waking up from hibernation to greet the sunlight and warmer temperatures. This also means other creatures are crawling out: fleas and ticks. These creatures can actually be a problem year-round, especially in warmer climates like the DMV area. Knowing that fleas or ticks are on us or on our pets is unappealing, but the bigger concern is that they can carry diseases, such as tapeworms or Lyme disease.
Like most things in medicine, the best treatment is prevention. As a veterinary dermatologists, I usually focus on treatment of fleas since these parasites cause itch, but many of the preventatives also address additional parasites that your primary care veterinarian would want covered. Over the past two decades, there has been a huge improvement in safety, number, and formulations of preventatives. They are very different from the early pesticides that required daily treatment and had numerous potential side effects for both humans and pets. Most preventatives now have targets (ex. receptors or enzymes) that are specifically found in parasites, which minimizes risk to the patient.
If the preventative is used topically on a pet to treat external parasites, then it is likely controlled by the Environmental Production Agency (EPA); these preventatives are available over-the-counter (OTC). If the preventative is given/absorbed systemically and can also treat internal parasites (ex. heartworm), then it is controlled by the Federal Drug Administration (FDA); these preventatives require a prescription from a veterinarian, and they might be used in a manner that differs from the label.
Since compliance is often the most important part of treatment, we often separate the types of preventatives into the different routes of administration by owners. Before recommending any of these preventatives, your veterinarian would need to consider species, purpose of treatment, concurrent disease, concurrent medications, and other factors. For most patients, especially flea-allergic ones, I recommend year-round use so that seasonal flares can be avoided.
Topicals
Example brands (alphabetical order): Activyl (Tick Plus), Advantage (Advantage II, Advantage Multi, Advantix), Bravecto, Cheristin, Frontline (Plus, Tritak), Revolution, Vectra (3D)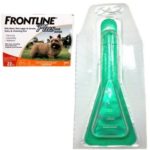 These medications are usually a liquid in a tube squeezed onto the skin between the shoulderblades (where an animal can't immediately lick it off). Because the products are applied externally, some are prone to being washed off with bathing or swimming. Bathing can be an important part of treatment for certain problems, so your veterinarian may adjust preventatives for this reason.
Any new topical medication or vehicle can potentially cause a contact reaction, just like humans might react to a new lotion or cream. If there is severe redness, itchiness, discomfort in the area where a topical preventative has been applied (but the pet is otherwise alert), then immediately rinse the area with warm water and dish-washing detergent; contact a veterinarian for next steps. Do not give topical dog preventatives that contain certain ingredients (pyrethroid) to cats as this can result in severe neurologic signs (tremors, hypersalivation, seizures, etc.). Packaging label guidelines are now stricter for this reason. In my clinical experience, I have seen certain products that seem to be associated with higher risk of reactions; in general, please consult with your veterinarian before application, even if the products are available over-the-counter.
Collars
Example brands (alphabetical order): Preventic, Scalibor, Seresto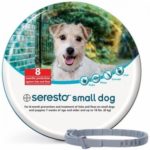 These are collars worn around the neck with direct skin contact. If your pet accidentally ingests a collar, please consult with a veterinarian; ingestion of some collars can have more concerning adverse effects than others.
Orals
Example brands (alphabetical order): Bravecto, Capstar, Comfortis/Trifexis, NexGard, Sentinel, Simparica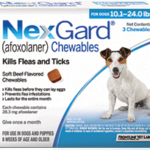 These medications are flavored chews/tablets that are given orally. For the food-motivated pets or those with histories of contact reactions, there have been an increasing number of options in this category recently. The first oral flea/tick preventative was approved in the US in 2013.
Some of these medications should be avoided in dogs with a history of seizures. If a patient is on a food trial for food allergies, then most of these preventatives would also have to be switched out for something else (typically Advantage Multi or Revolution to cover heartworm). These oral medications may require 48-hour tick attachment before the ticks are killed; this may be enough time for some tickborne diseases to be transmitted to the patient. For patients with heavy tick exposure, preventatives with more repellant activity may be suggested.
Other
Many owners ask about garlic, tea tree oil, nutritional yeast, and dips for parasites. I do not recommend these products as a) there is no scientific evidence supporting their efficacy and b) they can be toxic to pets. If you have specific concerns, please let your veterinarian know so that they can try to address those concerns and more specifically tailor treatments for your pet.
Now go enjoy the spring weather with your pet!
Dr. Fiona Lee earned her veterinary degree from the University of Pennsylvania and completed a rotating internship at BluePearl Veterinary Partners in New York City. Dr. Lee returned to the University of Pennsylvania for her dermatology residency and joined Friendship Dermatology Specialists in 2016.