Tails from the ER – A Greenie Situation
Lois is an 11-year-old spayed, female Pug who presented to the Urgent Care service for an episode of coughing/retching with bringing up white foamy material.  She has been previously healthy with no health concerns.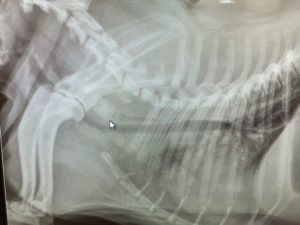 Xrays of her chest revealed a soft tissue opacity within her esophagus (on xrays arrow is pointing at site).  Lois received general anesthesia and was taken to endoscopy where a camera was inserted into her esophagus to identify and try and remove the object.  The foreign object was identified at her thoracic inlet and was very challenging to remove due to it's size and smooth texture.  After removal, it was determined that it was a "greenie" type treat.  Lois received medications to soothe any irritation of her esophagus as well as had instructions to soften her food for several days but recovered uneventfully.
Esophageal f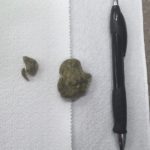 oreign bodies can occur as a result of bones, balls, smooth type of treats, and rawhides.  The esophagus is not a forgiving organ and if left untreated can put patients at risk for ulceration, perforation with significant infection within the chest cavity and structures.  Patients may have relatively non specific clinical signs such as Lois while others can exhibit signs of pain after swallowing, regurgitation of food or water, drooling and difficulty with laying down.  If caught early, endoscopy is usually successful, less expensive and less invasive then surgical removal.
We are thankful that Lois is on the mend!
Dr. Christine Klippen received a BS in Animal Sciences from Colorado State and a BS in Nursing from George Mason University.  She attended Colorado State University for veterinary school and has been working in specialty hospitals since 2009.  Dr. Klippen is part of our Emergency & Critical Care team and has a special interest in critical care, toxicology, trauma and education.
* Featured image courtesy of Chewy.