Table Scraps for Fluffy and Fido!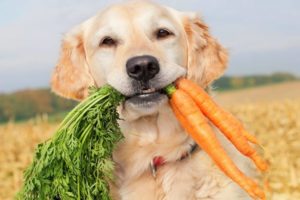 We love showering our beloved four legged friends with hugs and kisses and a table scrap here or there. The key is knowing which one will make Fluffy happy while staying healthy and which other ones to avoid. To provide our pups with the best health and nutrition, a daily well balanced dog food is ideal. Other "human food" may be added in moderate amounts to show them just how loved they truly are. Various fruits, vegetables, proteins, and dairy can be offered with many of them being low calorie options that might help in reducing excess calories otherwise obtained from treats and chews.
Fruits

Do: Strawberries, blueberries, apples, bananas, blackberries (cored and/or pitted)
Don't: Grapes, raisins, tomatoes, avocado

Vegetables

Do: Carrots, green beans, sweet potatoes, peas
Don't: Mushrooms, onions, garlic

Protein

Do: Fully cooked basic meats (chicken, lean ground beef)
Don't: Raw, undercooked meats, avoid exotic meats, spices and seasonings

Dairy

Do: Cheese, cottage cheese, plain yogurt
Don't: Unpasteurized milk, excess dairy
Yummmmy!
Dr. Diaz graduated from the University of Florida and joined Friendship in 2015. Dr. Diaz completed her internship at Friendship in 2016 and has been a staff doctor ever since. Her professional interests include shelter medicine and international outreach.
*Featured image courtesy of Dog Training.