Tails from the ER – Stone and Rocks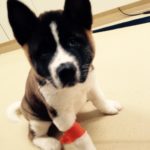 Meet Stone!  Stone is a handsome Akita puppy that was hospitalized in late November for vomiting multiple times.  The breeder had noted he was licking some gravel that milk had been spilled on earlier in the day.  We did not realize quite how much gravel he had ingested until we took x-rays of his belly.  We were concerned that he was going to need surgery based on the number of stones ingested and the possibility of an intestinal obstruction.  He was admitted to the hospital for monitoring and received intravenous fluids, pain medications, and nausea medications.  Frequent walks can also help the GI tract to move.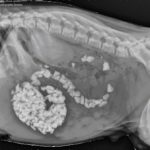 The stones are the bright white objects filling his stomach and intestines.
He passed multiple pieces of gravel (over 250!) in his stool overnight.  We repeated x-rays the next morning, and he had passed the majority of the stones on his own.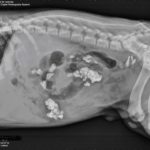 The vomiting resolved and Stone was discharged the next day.  Fortunately, Stone did not require surgery!
Dr. Nicola Moore was born and raised in Silver Spring, MD.  She received her DVM from the Virginia-Maryland College of Veterinary Medicine and completed a one-year rotating internship at Friendship before joining the team as a full-time staff doctor in 2009.  Dr. Moore works in both our Primary Care and Emergency & Critical Care departments.
*Images courtesy of Friendship Hospital for Animals.