Warm Weather Safety Tips: Part II
Dr. Janine Calabro, FHA's Chief of Emergency and Critical Care, is back with part two of the Warm Weather Safety Tips series in order to help you keep your furry friends safe and healthy this summer!
We often see an uptick in trauma cases when it's nice outside.  More people and more pets outside mean that the risks for accidents may increase.
Safety Tip #1:
First and foremost, we recommend that all owners have their dogs securely leashed unless you're walking or hiking with them in an area where dogs are specifically permitted to be off-leash.  Even very well trained dogs can be startled and react in an unpredictable way.  We see plenty of dogs each year who come to our emergency room for traumatic injuries after slipping their leash or being spooked and running off.  We also see an uptick in the number of dogs coming to our ER with dog bite injuries when it's nice out.  Many of these injuries can be prevented by keeping pets securely leashed.
Safety Tip #2:
High rise syndrome can occur when pets fall out of windows or off balconies.  This occurs more often with cats than with dogs.  We recommend that all windows without sturdy screens be kept closed to prevent falls and that cats not be left unsupervised on balconies.
Safety Tip #3:
Heartworm disease is spread by mosquitoes.  It's a year-round risk in warm areas of the country where mosquitoes can survive the winter.  At FHA, we recommend year-round use of heartworm preventative medications, which are proven to be safe and effective.  More information on heartworm disease is available from the American Heartworm Society.
Safety Tip #4:
Summertime often brings cookouts, pool time, and trips to lakes and beaches.  We recommend that pets be closely supervised at all times while enjoying these summertime activities.  Sand and/or salt water ingestion may cause significant gastrointestinal upset and electrolyte abnormalities.  Ingesting large amounts of rich or fatty foods can also cause gastrointestinal upset or pancreatitis; and some human foods can be toxic to pets.  Unsupervised access to pools or other bodies of water can lead to drowning.  Common sense and close supervision are free – and emergent medical care can be quite costly!
Safety Tip #5:
Insects and other pets may be more prevalent during the warm months.  We recommend that you keep an eye out for flags indicating recent pesticide application when you're out walking with your pets.  If you choose to use pesticides or rodenticides in your home or on your property, make sure that you read all labels completely and carefully and follow recommendations closely.  The ASPCA Animal Poison Control Center is a great resource for information and has a 24/7 hotline.
Safety Tip #6:
Brush more often. OK to clip hair shorter, but shaving may predispose to sunburn.
Safety Tip #7:
Come the first week of July, fireworks can be problematic for many pets.  Dogs and cats are much more sensitive to loud noises, flashing lights, and strange smells than people are; and they may have a much less stressful holiday if they stay indoors and away from these jarring stimuli.  Leaving a white noise machine, music, or the TV on in the background may help to buffer sudden, loud noises that may startle them.  If you must bring your dog along with you to 4th of July festivities, ensure that they are closely supervised and securely leashed at all times.
Safety Tip #8:
Year-round, we always recommend that your pets wear a collar or harness with ID tags and emergency contact information whenever they are outdoors.  If they manage to slip away from you, it's much easier to get them back if your name and phone number are attached to them!  Microchipping may also be a good option for you and your pet.
Safety Tip #9:
Finally, we also recommend that all pet owners have a disaster plan in the event of emergencies or natural disasters.  The Humane Society of the United States and the ASPCA both have information available on their websites about emergency plans and disaster preparedness.
All of us at FHA wish you and your pets a safe, fun-filled summer!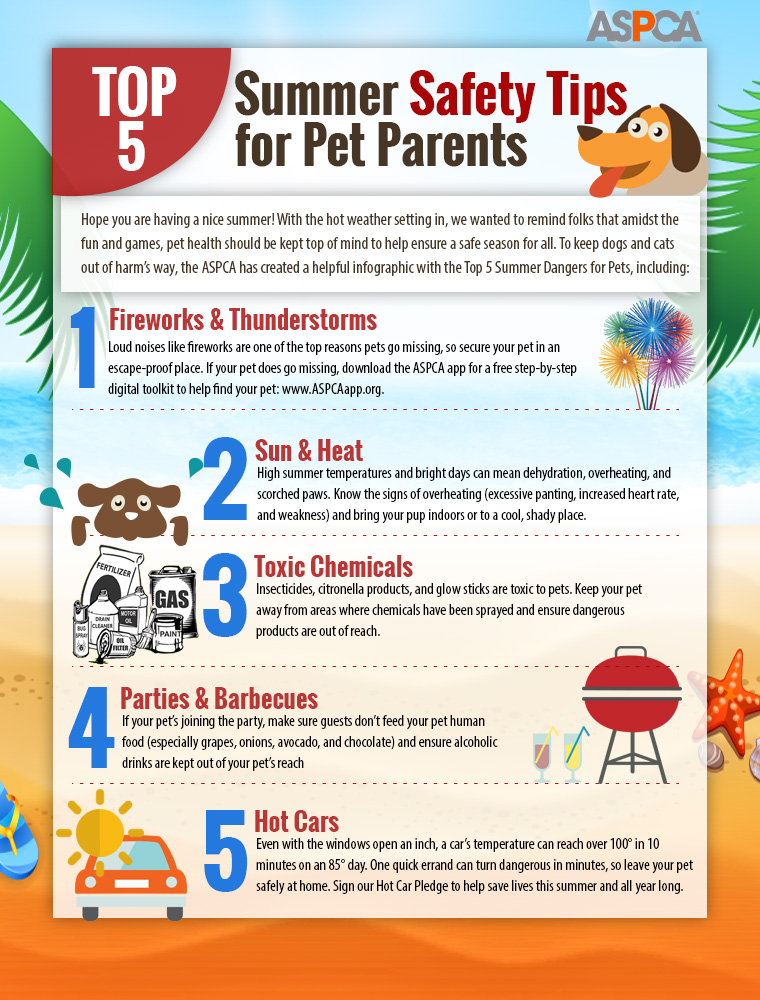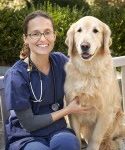 Dr. Calabro graduated from Cummings School of Veterinary Medicine at Tufts University. Her clinical areas of interest are: trauma, respiratory disease and mechanical ventilation, and critical care nephrology.
*Featured image courtesy of Entirely Pets.