Check the Chip!

National "Check the Chip Day" is here! Please remember to microchip your pet and do not forget to register their information and microchip number online!  Microchipping significantly increases the chance that your pet will be returned home if lost.  Today is the day to take the time and make sure that your pet is not only microchipped, but that the information is up-to-date!
The American Veterinary Medical Association (AVMA) and the American Animal Hospital Association (AAHA) have teamed together with support from HomeAgain to promote this event on August 15th and encourage pet owners to update and check their pet's microchip information annually.
Don't know your pet's microchip number? Not to worry! Please call your veterinarian or bring your pet in to have their microchip scanned (or placed if they do not have one yet). Then, do not forget to register the microchip and make sure the information is always kept up-to-date!
For more information, please visit the following links:
https://www.avma.org/Events/pethealth/Pages/Check-the-Chip-Day.aspx
https://www.avma.org/Events/pethealth/Documents/CheckTheChipDayFlyer.pdf
https://www.avma.org/Events/pethealth/Pages/Check-the-Chip-Day-Infographic.aspx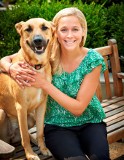 Dr. Schuyler Winstead Matthiesen was born and raised right here in the DC area. She has been a staff veterinarian since 2013, though her first FHA gig was as a veterinary technician. Dr. Matthiesen's interests include endocrinology, preventative medicine and soft tissue surgery.
*Featured image courtesy of Compassion Animal Hospital.