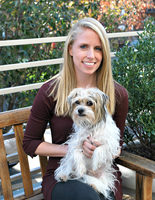 I was born in Washington D.C., but I grew up in Toronto, Ontario. Then moved to a suburb just outside Philadelphia. I received my undergraduate degree from Duke University, where I double majored in French studies and Biology with a focus in marine biology.
I attended veterinary school at the University of Florida, where I gained a passion for comparative oncology and small animal internal medicine. Following vet school, I completed a 1-year rotating internship in medicine and surgery at Friendship Hospital for Animals, followed by a 3-year medical oncology residency program with The Oncology Service.
I live in D.C. with my scruffy mutt named Mowgli, whom I adopted during veterinary school. I enjoy running, hiking, biking, and generally being outdoors. I am very excited to rejoin the Friendship Hospital for Animals team!
Clinical Areas of Interest
Hematopoietic cancers
I also enjoy participating in clinical trials exploring new treatments for dogs and cats with cancer.
Why Do You Work at Friendship?
I did my rotating internship at Friendship and stayed on to complete a three-year residency with the oncology department. I love working here because there is such a diverse knowledge base within the hospital which allows for a truly collaborative approach to patient care. The doctors and staff are great to work with, which also creates a great work environment.
Education
Duke University, B.S. Biology, B.A. French Studies
University of Florida, College of Veterinary Medicine, DVM, Cum Laude with Honors
Friendship Hospital for Animals, Rotating Intern in Small Animal Medicine, Emergency, and Surgery
The Oncology Service, LLC, Resident Medical Oncology
Board Certifications
Diplomate, American College of Veterinary Internal Medicine (Oncology)
Publications and Research
Foskett A, Khanna, C. "The Hallmarks/Origin of Cancer". Textbook of Veterinary Internal Medicine. Elsevier, December 2016.
Foskett A, Alnaeeli M, Wang L, Teng R, Noguchi CT. 2011. The effects of erythropoietin dose titration during high-fat diet-induced obesity. J Biomed Biotechnol. 2011. Article ID 373781.