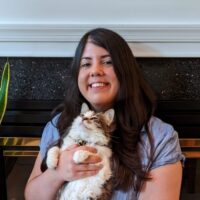 I grew up in a small city in central NJ and since then moved to Manhattan, Philadelphia, Boston, and then back to Philadelphia for my schooling and training. Throughout college and vet school, I was heavily involved in biomedical research, particularly in developmental biology and genetics, until I discovered a strong interest in medical oncology during my veterinary school clinical rotations. I'm excited to get the opportunity to explore a new city and take advantage of all D.C. has to offer! I have two mischievous cats, Olivia and Izzy. Outside of the hospital, I enjoy reading fiction, nature and urban photography, figure drawing, exploring museums and galleries, and tending to my ever-expanding jungle of houseplants.
Clinical Areas of Interest
Hematopoietic neoplasia
Gastrointestinal tumors
Palliative/end-of-life care
Why Do You Work at Friendship?
I first heard about Friendship from many friends and colleagues who praised both its clinical medicine and good working environment. I was drawn to Friendship's fast-paced urban environment as well as the opportunity to participate in clinical teaching of interns. I am excited to join such a supportive, accomplished, and diverse team of professionals.
Education
Columbia University, 2007-2011: Bachelor of Arts in Molecular Biology
University of Pennsylvania School of Veterinary Medicine, 2011-2015: Doctor of Veterinary Medicine
Angell Animal Medical Center, 2015-2016: Internship in Small Animal Medicine and Surgery
Angell Animal Medical Center, 2016-2017: Specialty Internship in Oncology
University of Pennsylvania School of Veterinary Medicine, 2017-2020: Residency in Medical Oncology
Board Certifications
Diplomate, American College of Veterinary Internal Medicine (Oncology)
Publications
Del Alcazar, C. M., Mahoney, J. A., Dittrich, K., Stefanovski, D., & Church, M. E. (2021). Outcome, prognostic factors and histological characterization of canine gastrointestinal sarcomas. Veterinary and comparative oncology.
Chiaro JA, Baron MA, del Alcazar CM, O'Donnell P, Shore EM, Elliott DM, Ponder KP, Haskins ME, Smith LJ. (2013). Postnatal Progression of Bone Disease in the Cervical Spines of Mucopolysaccharidosis I Dogs. Bone. 55:78-83. PMID:23563357
Arora R, del Alcazar CM, Morrisey EE, Naiche LA, Papaioannou VE (2012). Candidate gene approach identifies multiple genes and signaling pathways downstream of Tbx4 in the developing allantois. PloS one, 7(8), e43581.
Abstracts & Presentations
Del Alcazar CM, "Outcome, Prognostic Factors, and Histological Characterization of Canine Gastrointestinal Sarcomas" (2019). Keystone Seminar Series. Ryan Veterinary Hospital, University of Pennsylvania, Philadelphia PA (Presentation)
Del Alcazar CM, Mahoney JA, Dittrich K, Stefanovski D, Church Molly E (2019). Outcome, Prognostic Factors, and Histological Characterization of Canine Gastrointestinal Sarcomas. Veterinary Cancer Society Annual Conference, Houston, TX. (Poster)
Del Alcazar CM, "Multiple Myeloma" (2016). Friday Morning CE Seminar Series. Continuing Education Department, Angell Animal Medical Center, Boston MA (Presentation)
Del Alcazar CM, "Canine Histiocytic Diseases" (2015). Friday Morning CE Seminar Series. Continuing Education Department, Angell Animal Medical Center, Boston MA (Presentation)
 Del Alcazar CM, Chiaro JA, Shore EM, Haskins ME, Smith LJ (2014). Delayed Chondrocyte Differentiation and Altered Indian Hedgehog Signaling Contribute to Failed Vertebral Bone Formation in Mucopolysaccharidosis VII. Orthopaedic Research Society Annual Meeting, New Orleans, LA (Podium)
Del Alcazar CM, Chiaro JA, Ponder KP, Shore EM, Haskins ME, Smith LJ (2013). Mechanisms of delayed bone formation in the spines of Mucopolysaccharidosis VII dogs. NIH-Merial National Veterinary Scholars Symposium. East Lansing, MI. (Poster)
Chiaro JA, Baron MA, del Alcazar CM, Shore EM, Elliott DM, Ponder KP, Haskins ME, Smith LJ (2013). Pathogenesis of Cervical Vertebral Bone Disease in Mucopolysaccharidosis I During Post-Natal Growth, 59th Annual Meeting, Orthopaedic Research Society, San Antonio, TX. (Poster)
Chiaro JA, Baron MA, del Alcazar CM, Shore EM, Elliott DM, Ponder KP, Haskins ME, Smith LJ (2012). Pathogenesis of Cervical Vertebral Bone Disease in Mucopolysaccharidosis I Dogs. Philadelphia Spine Symposium, Philadelphia, PA. (Podium)
Del Alcazar CM, Chiaro JA, Ponder KP, Shore EM, Elliott DM, Haskins ME, Smith LJ. (2012). Mechanisms of delayed bone formation in the spines of Mucopolysaccharidosis VII dogs. NIH-Merial National Veterinary Scholars Symposium. Fort Collins, CO. (Poster)
Del Alcazar, CM, Arora, R, Papaioannou, VE. (2010). Cloning, expression, and purification of Tbx4 for polyclonal antibody production. Columbia University SURF Symposium, New York, NY. (Poster)