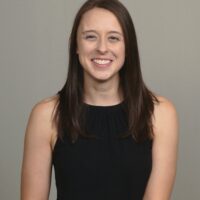 I am from Erie, Pennsylvania where I attended the university my parents both taught at. I have truly always wanted to be a veterinarian and could see myself doing nothing else. Following graduation from The Ohio State University College of Veterinary Medicine I completed a rotating internship at Friendship Hospital for Animals. I continued to work in the specialty surgery department with a primary focus on emergency surgery and teaching our rotating doctors.
After I completed the Fear Free® Elite Certification, I realized there was much more that I could do for pet parents and their pets to help make the veterinary experience less stressful. I completed a non-conforming clinical behavior residency at the Animal Behavior Wellness Center and have returned to Friendship to start a behavior service. I look forward to helps pets across the DMV to improve their behavioral and mental health.
I live in Maryland with my husband, Lab/Husky mix Sadie Marie and cat Killian Michael (both of which have their own behavior concerns!). In my spare time I enjoy gardening and working in my greenhouse.
Clinical Areas of Interest
· Clinical Behavior Medicine
· Shelter Behavior Medicine
Why Do You Work at Friendship?
My favorite part about Friendship is access to other specialists is all under one roof. It lets me collaborate with them efficiently for my patients and helps me to provide the best possible medical plan.
Education
· Gannon University, BS in Biology
· The Ohio State University College of Veterinary Medicine, DVM
· Friendship Hospital for Animals, Rotating Medicine and Surgery Internship
· Animal Behavior Wellness Center, Non-conforming Clinical Behavior Residency
Publications and Research
Journal Articles
· Ropski MK, Guillaumin J, Monnig AA, Towsend K, McLoughlin MA. Use of cryopoor plasma for albumin replacement and continuous antimicrobial infusion for treatment of septic peritonitis in a dog. J Vet Emerg Crit Care: 2017. doi:10.1111/vec.1258
· Von Pfeil DJF, Glassman M, Ropski M. Percutaneous tibial physeal fracture repair in small animals: technique and 17 cases. Vet Comp Orthop Traumatol. 2017. doi: 10.3415/VCOT-16-17-0102