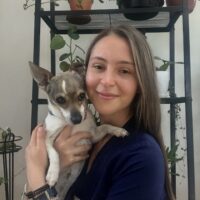 I grew up in Miami, Florida and studied cognitive science with a focus on linguistics and cognitive neuropsychology at Johns Hopkins University. During my undergraduate studies, I developed an interest in biology and physiology, ultimately deciding to pursue veterinary medicine. Following graduation, I returned to South Florida, spending about two years working in wildlife rehabilitation, primarily with seabirds. In 2017, I moved to Ithaca where I completed veterinary school at Cornell University.
In my spare time, I enjoy tending to my houseplants, building terrariums, and volunteering with bat rehabilitation and conservation. I love kayaking, hiking, and simply spending time outside whenever the weather is warm. My two dogs (a jackhuahua and a collie-mix) and I are looking forward to calling the DC-Maryland area home!
Clinical Areas of Interest
Ophthalmology

Internal Medicine
Why Do You Work at Friendship?:
I want to grow as a clinician in a dynamic hospital that practices progressive, evidence-based medicine to help me provide the best care for patients that cannot speak for themselves. Friendship's emphasis on cooperation and the human-animal bond was a huge draw for me, and I'm incredibly honored to be a part of such a wonderful community.
Education
DVM, 2021; Cornell University, Ithaca, NY

BA, 2015; Johns Hopkins University, Baltimore, MD