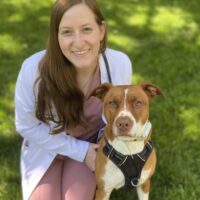 I am originally from the suburbs of D.C. and am so excited to be back in the area. I attended Clemson University (go tigers!) where I graduated with a degree in animal and veterinary sciences. I then went on to graduate from Virginia Tech with my doctorate of veterinary medicine and my internship at Friendship. I have a passion for building bonds with clients and caring for their pets through all life stages.
I currently live in Rockville, MD with my wonderful husband. We share our home with Lily, our tuxedo cat, and Pancake, our rambunctious pitbull mix.
During my free time I enjoy spending quality time with my family, playing soccer, and traveling.
I truly love Friendship's collaborative environment and working along side specialists, which allows me to continue to grow my medicine every day. I am able to practice high quality medicine and patient care with the team at Friendship. "
Education
Clemson University, B.S. Animal and Veterinary Sciences
Virginia-Maryland College of Veterinary Medicine, DVM